Olympus Mons area:
Edit
log entry 1:
build and re-enforce the beach head...
set up and maintain Dustoff pads with Laser AA emplacements for Recon / Defensive Vtol units
New structure on line - now able to produce Cyber Engineering and Repair units - Technology brought by exploration team to be set up asneeded /required.
Search for and find a way to utilize resources
- still need to find a reliable source of power that is not oil or nuke based - possible wind or solar power? mineral deposits?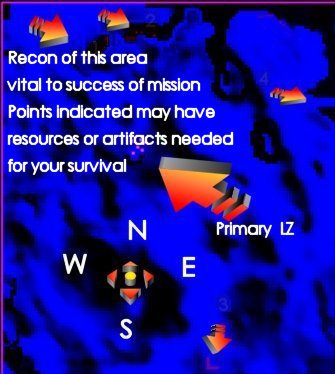 Log entry 2:
Attacked by a group of unknown entities today.
( story line concerning the UE is being worked on - see the 4 part series of conversations... will have to develop that as well - flashback sort of to the past - where a (crashed?) lander is discovered by other exploring individuals - who upgrade the original to sentience and then are killed off by a bacterium that lay in the inner workings... (2007? to 2125 - 118 years to be specific - should be ample time for a viral bacterium to eradicate biologicals no matter from what world.)
drove them off - Heavy casualties among the ( insert name here )
( units to be announced later - possible non armoured flesh types... as well as our own units that will be made for this mod)
From the parts and pieces left of the enemy units - discovered new technology - will analyze and incorporate to produce new units.
New unit - LOS Rapid fire Chain Gun on new chassis
( LAC25 - coded - Coyote ) ;) - Based on cyber engineer chasis - light armoured - fast - small armament - strong sensor - ideal recon vehicle.

Log entry 3:
New units able to survive multiple hits.
New units - Rapid fire rail gun type... Rapid fire Scourge Missile rack (auto loading )
New structure on line - able to produce aircraft for scouting and defensive craft.
Search for resources successful - found several areas that contained ( ? )just south - south west of our Landing Zone. (( resource needs to be identified yet as it is doubtfull that oil exists on mars ))
Entity attacks continue to plague our toehold on this unforgiving planet.

Having established your Main base of operations - explorations of the surrounding areas in search of resources and possible artifact locations - ( Artifacts - Alien buildings / parts / pieces / etc... ). Discoverey of alien structures may contain technology that is usable. research. lets get some ideas going on this - flesh it out...
Work in progrss...
Template For Scripting Analysis
Edit
For Purposes of Reference - The following needs to be born in mind whenever approaching a Mission Construct.
Questions To Be Answered
Edit
These ?'s will have to be answered in order to move from the present stage to a Scripting Analysis Doc. which is, in turn, what will be needed to go to the actual scripting phase.
I'll start providing feedback in that direction starting tomorrow.
BTW: Did you see the Map Review Faithcat posted today ? I copied it over to the Mars Maps Section "Discussion Space".

Rman JackRman Jack 20:59, 10 Jan 2005 (PST)
Some First Considerations
Edit
This Cam unfolds on Mars ergo two things that are foundational to that off-world experience:
1.) NO Oil - NO Derricks... I have 3 suggestions for Energy Sources that can be gauged by how much work - Some to Lots - as far as implementing. I'll post l8r.
2.) The Truck Model: Out of all units, surely the most Earth-bound by looks alone. Meaning - it screams for an extraterra-model.
* see new models - elric. nuff said.

Whereas you can readily get away with most other unit models - the present truck's appearence completely belies any immersion into a Mars Experience. I mean, it looks too much like an earth-bound dump-truck made by Chevy... hehe. ;)
* yes - agreed the present models leave a lot to be desired.. and as is usual for me  - i have had to wait very patiently, and yes i still am.

More to follow... Rman JackRman Jack 09:55, 11 Jan 2005 (PST)
Some Suggestions
Edit
Manned Lunar-Rover based Trucks
 *yes

New Energy Resource Possibilities.
1.) First: OIL & derricks are no-no's
agreed - this was discussed at length on the old msn site.. through a msn messenger and also trough messages.
2.) If Dericks GFX is redone as say a "Gas Refinery" then oil-resource map tile GFX matte has to be re-done. Then the question becomes: what gas ? Following the "SC" model, you could postulate a gas type.
the gasses actually on mars was looked into by marsbound2024 - there is a page devoted to resources - just was not feeling so great the last few days.. will try to get it up asap.
3.) If you go "Solar-Collector", which can be planted anywhere, then a whole schema for energy-economics has to be devised. Meaning that the entire Oil-Schema has to be discarded.

4.) If you postulate a pre-existing, extra-terrestial "Energy Grid" (like in the classic S.F. Movie "Forbbiden Plaent") based on say "Geothermal" ... Then the entire oil-economy schema could be used & all that would be needed is New GFX to replace oil-map-tile mattes & the derricks....
IMHO, Nos. 2 & 4 are the most feasible to implement.
No. 3 is the least feasible as it would entail addressing the Source Code & that is not likely presently or anytime soon. Perhaps a year or so from now when the Source has been more modularized following OO, that could be a more reasonable option, IMHO.
One last possibility, or maybe not:
5.) Following # 2 & 4 - Waste-reclamation / methane generation modeled on pig & cow poop tech except using cyborg chit to generate energy... The downside would be you'd a whole lot of chit to run a decent economy... ;)
Of course we can also consider an old stand-by:
6.) Mini-Fusion Reactors..... Use the underlieing oil-economy schema, replace the GFX & Tile Mattes.... & justify the Mattes as "Underground Water Deposits".....
By the same rational & procedure as #6 we can also postulate:
7.) Hydrogen-Fuel based economy.
see above comments under yours - all of the above can be implemented with little of at best a medium amount of labour.. after waitng this long - and seeing all this conversation - makes me feel my labours not been in vain.

Rman JackRman Jack 12:14, 11 Jan 2005 (PST)
Victory Conditions: DEFINE
Edit
What player MUST accomplish to move-on to next mission ?
What, where & when: Enemy Event Triggers to challenge player to achieve Conditions to Victory ?
List for "Sure Rewards" & "Possible but not Necessary Rewards".... could be Artifacts, could be rank, could be captured enemy Units / Tech... & so on....
May as well start to consider "Exact Map Coordinates" for All Scripted Events.
Rman JackRman Jack 07:42, 15 Jan 2005 (PST)